Regina's Local Electrician
Serving the Regina area with 25+ years of experience, we specialize in giving our customers great service with no added shocks!
Services
At TressTech Electric we specialize in residential and small commercial electrical services in the Regina area. Including new developments, renovations and upgrades to solving electrical problems you may be having. We have the know how and experience along with the efficiency to help keep costs low for our custumers!
01 Free Estimates and Quotes for Regina and the surrounding area
02 Electrical Service and Panel Upgrades
03 New construction and Renovations
04 Hot Tubs - AC's - Pools -Garages
05 We now install Celebright under soffit lighting!!
06 Back up Generators and Solar Power
About us
And why we excel at our job
At TressTech Electric we have the right team with the right experience for your electrical needs. Dan is the owner and has been working in the electrical industry in Regina for over 25 years! TressTech Electric was opened in Regina in 2003 and has been servicing local contractors, homebuilders, home and business owners since! We have a great team of Journey-person and Apprentice electricians and we pride ourselves in our ability to provide great workmanship with great timelines while keeping the costs to our customers low!! Thats why we continue to work with the same contractors and builders year after year!
Knowledgeable Team
Quality Workmanship
On Time and on Budget
Great Pricing
Small and Friendly Business!
Recent Projects
At TressTech Electric we are always working hard to get our projects done on time and on budget for our customers! Thats why we are Regina's go to electricians!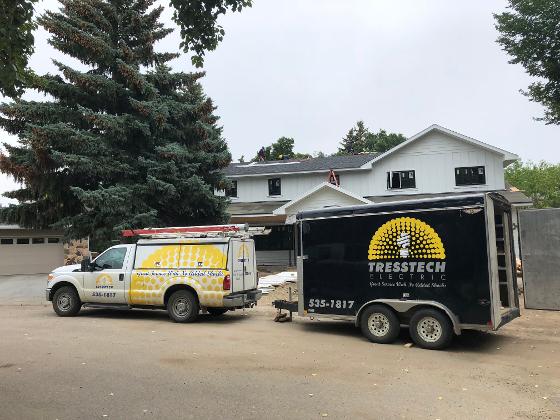 Get in touch
We`d love to hear from you